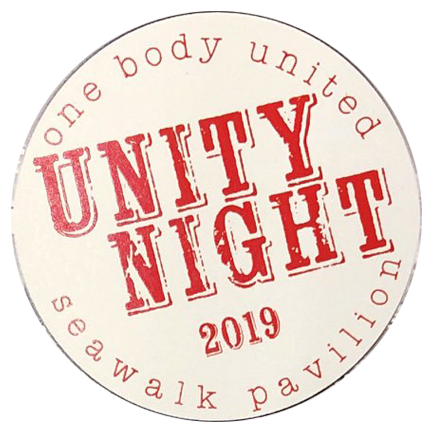 Kids Zone • Food Trucks • Music • Special Guest Speakers
Featuring: Access Worship, Youth Quake Live, Radiate, United St. Johns Band
For more information, visit:
First Coast Pastors, Ministry Leaders & Prayer Leaders
We have great expectation for what God will do during our 1st annual Unity Night gathering on August 23, 2019, 6-10pm. We have an incredible line-up of gifted individuals across the First Coast area ready to help usher in the presence of the Lord through worship. We have testimonies that will be shared throughout the evening. The baptism pool will be open immediately after the 1st testimony. We will conclude Unity Night with Communion as we partake together as the family of God.
It is our ambition to fill the Jax – Beach, Seawalk – Pavilion to capacity. We will host a Kidzone with games, face painting, balloons, super heroes the kids love, etc. in Latham Park next to the pavilion. We will also have food trucks on site for attendees. For our pastors, volunteers and special guest, Chick-Fil-A will provide food in the greenroom area. We also want every pastor to participate in the altar call and to help administer communion.
PRAYER LEADERS:
We need the help of prayer warriors to intercede for the night. We will also have a prayer tent and we need people like you, to be there praying for those that need a breakthrough, or healing, or even a miracle in their life.
We pray that you consider joining our team as we witness the First Coast Uniting together for the sake of the gospel. Jesus has already prayed for the "perfecting of our unity" and it is our responsibility to show the world that We Are One.
We look forward to your support, involvement and your help in communicating this event to your teams.
Thank You Unity Night Sponsors